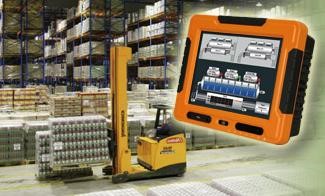 Panel PC de aluminio UPS-12 con batería backup
Características
PPC 12.1"con tecnologia touch
Pantalla legible a la luz del sol
Powerful all-in-one panel PC
Intel® GM45 chipset and 45nm mobile Core™2 Duo processor support
An onboard ULV Intel® Celeron® M 1GHz plus 512K with Intel® 910GMLE chipset support
Batería para backup contra fallos eléctricos.
Sensor de Luz para ajustar automáticamente el brillo/contraste de la pantalla y optimizar la correcta visualización del equipo.
Dual Gigabit Ethernet para reducir las colisiones de red o posibles infecciones de virus.
Interruptor remoto power On/Off
Soporta 802.11 b/g/n Wi-Fi
Ranura de extensión PCI
Socket para Compact Flash® Type II
Sistema fijación VESA 75/100
Chasis robusto de aluminio.
Frontal aluminio soporta IP 65.
Puede descargarse el datasheet  haciendo clic aquí
Puede ver la noticia completa haciendo clic aquí