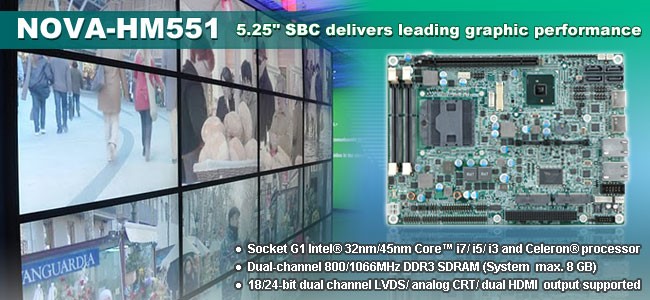 Tempel S. A. presenta la nueva tarjeta embedded SBC de 5.25″ para la implementación en equipos y diseñada para aplicaciones graficas, como por ejemplo: Digital Signage. Características: 1. 5.25″ SBC with Socket G1 supports Intel® 32nm/45nm CoreTM i7/ i5/ i3 and Celeron® processor 2. Dual-channel 800/1066 MHz DDR3 SDRAM soporta hasta ( max. 8 GB). 3. 18/24-bit dual channel LVDS/ analog CRT/ dual HDMI output. 4. Soporta PCIe x16, dual PCIe Mini card and PCI-104 device 5. IEI One Key Recovery ( para restauración rápida del S.O. o para backup)
Lista CPU CoreTM i7 para QM57/ HM55.
Package Type Brand Name Code Name CPU No. Clock Speed L2 Cache TDP Intel® AMT 7.0 Integrated Graphic
Socket G1988-pin PGA CoreTMi7Extreme Edition Arrandale i7-840XM 2.13G 8M 55W
i7-820XM 2.0G 8M 55W
CoreTM i7 i7-840QM 1.86G 8M 45W
i7-820QM 1.73G 8M 45W
i7-740QM 1.73G 6M 45W
i7-720QM 1.6G 6M 45W
i7-620M 2.66G 4M 35W V (For QM57 only) V
CoreTM i5 i5-540M 2.53G 3M 35W V
i5-520M 2.4G 3M 35W V (For QM57 only) V
i5-450M 2.4G 3M 35W V
i5-430M 2.26G 3M 35W V
CoreTM i5 i3-370M 2.4G 3M 35W V
i3-350M 2.26G 3M 35W V
i3-330M 2.13G 3M 35W V
Celeron® P4500 1.86G 2M 35W V
Comparación CPU:
Intel® CoreTM i7 procesador 1.56 and 1.6 time fasteron CPU y funcionamiento gráfico comparado con el T9400 CPU plus GM45 chipset.
*Nota: Intel® CoreTM i7 Quad Core no soporta chip grafico interno.
Diferencias entre QM57 and HM55.
Ibex Peak-M Feature QM57 HM55
PCI-Express 8 ports 6 ports
SATA 6 ports 4 ports
TDP 3.2~3.5W 3.2~3.5W
Intel Active ManagementTechnology (Intel AMT 6.0(integrated KVM) No
USB 2.0 Ports 14 ports 12 ports
Diferentes versiones de HM551.
Especificaciones:
CPU Socket G1 for Intel® mobile CoreTM i7/ i5/ i3 and Celeron® processor (Socket 988)
PCH Intel® HM55
Memory Two 204-pin 4GB (max.) 800/1066MHz dual-channel DDR3 SDRAM SO-DIMM supported (System max. 8GB)
BIOS UEFI BIOS
Graphic Engine Gen 5.75 with 12 Execution Units DirectX* 10, OpenGL* 2.1
Super I/O Fintek F81865
Display Interface VGA integrated in the Intel®HM55 support up to QXGA 18/24-bit dual channel LVDS Dual HDMI output
LAN Dual PCIe GbE controller by Realtek RTL8111E, LAN1 with ASF2.0 support
I/O Interface 4 x RS-232 2 x RS-232/422/485 with Auto Flow control 8 x USB 2.0 4 x SATA 3Gb/s with DC power output 1 x LPT 1 x 6-pin header for KB/MS
Expansion 1 x PCIe x16 slot 1 x PCI-104 2 x PCIe Mini card slot (USB+PCIe signal)
SMBus 1 x 4-pin wafer connector
TPM (optional) On board Infineon SLB9635TT1.2
Digital I/O 8-bit digital I/O, 4-bit input / 4-bit output
Fan Connector 1 x 4-pin for CPU fan 1 x 3-pin for chassis fan
Audio On-board Realtek ALC888 HD Audio codec
Watchdog Timer Software programmable support 1~255 sec. system reset
Power Supply DC 12V only, AT/ATX Power support by jumper
Power Consumption 12V@4.67A (2.66GHz Intel® CoreTM i7 620M CPU with DDR3 1333MHz 4GB*2 DIMM)
Temperature Operation: -10°C ~ 60°C
Humidity Operation: 5% ~ 95%, non-condensing
Dimensions 203mm x 146mm
Weight GW: 800g / NW: 300g
Dimensiones:
Packing List:
1 x NOVA-HM551 single board computer 1 x Audio cable (P/N:32000-072100-RS)
1 x VGA cable (P/N: 32000-033800-RS) 1 x Utility CD
2 x SATA with 5V power cable Kits (P/N: 32801-000201-100-RS) 1 x Mini jumper pack
1 x KB/MS Y cable (P/N: 32000-023800-RS) 1 x QIG
1 x Quad port RS-232 adapter cable (P/N: 32100-147900-RS) 1 x USB cable (P/N: 32200-044300-RS)
.
Para ver la información origuinal, pulse aquí.