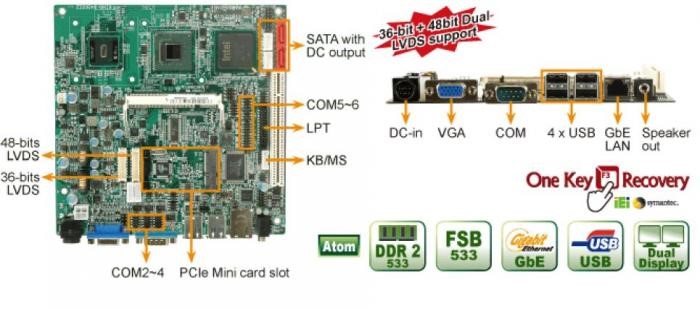 Tempel S.A, presenta la nueva tarjeta CPU Mini-ITX , fabricante taiwanés IEI.Kino-945GSE2 con intel Atom N270 1.6G con fuente de alimentación integrada, 12V.Es un sistemas ideal para implementar en máquinas con espacio reducido, además con un microprocesador ATOM, no necesita ventilador de refrigeración reduciendo el molestoso ruido de ventilación.
Features
1. Intel® Atom™ Processor N270 1.6GHz sin ventilador.
2. DDR2 400/533 SO-DIMM hasta 2GB.
3. Support PCIe mini card, PCI slot for expansion
4. 36+48 bits LVDS support dual display output
5. Single voltage DC 12V input
La KINO-945GSE2 integra modulo DC/DC en la placa para voltaje de entrada de 12v.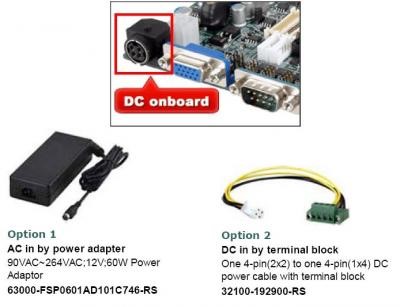 Specifications
CPU Intel® Atom™ Processor N270 1.6GHz with a 533MHz FSB
System Chipset Intel® 945GSE+ICH7M
BIOS AMI BIOS
System Memory One 200-pin 400/533 DDR2 SDRAM SO-DIMM supported (system max. 2GB)
Ethernet 1 x Realtek PCIe 8111CP GbE Chipsets
I/O Interface 6 x USB2.0 (4 on rear, 2 by pin header)
2 x SATA with DC power
1 x RS-232 (Rear IO)
3 x RS-232 (by pin header)
2 x RS-232/422/485 (by pin header)
1 x LPT
1 x 6-pin box header (2.0mm pitch) for KB/MS
Super I/O Fintek 81865
Digital I/O 8-bit digital I/O, 4-bit input/ 4-bit output
Infrared 1 x Infrared interface by pin header
Audio Realtek ALC655 AC'97 Codec
Display Interfaces Display Output VGA integrated in Intel 945GSE
Support HDTV resolution up to 1080i by component interface
18 bit Dual channel LVDS by Intel® 945GSE
24 bit Dual channel LVDS by Chrontel CH7308B
Expansion 1 x PCI
1 x PCIe mini card
Watchdog Timer Software programmable support 1~255 sec. system reset
Power Supply Single voltage 12V DC input
1 x external DIN 4pin DC jack
1 x internal 2 x 2-pin power connector
Power Consumption 1.73A@12V (Intel Atom™ N270 1.6GHz with 2GB DDR2)
Connectors DC connectors: 2pcs 1 x 4-pin 5V power connector (Major for 2.5″ HDD used)
Graphic On Intel® Graphics Media Accelerator 950
Temperature Operation: -10°C ~ 60°C
Humidity Operation: 5% ~95% non-condensing
Dimensions 170mm x 170mm
Weight GW: 1000g / NW: 350g
KINO-945GSE2 integra LVDS para 18 bits y 24 bits TFT, con un diseño LOW Profile Compact.

Ordering Information
Part No. Description
KINO-945GSE2-N270-R10 Mini-ITX SBC with Intel® Atom™ N270 1.6G, 12V DC input, VGA/ 18+24 bits LVDS/HDTV, PCIe GbE, USB2.0, SATA and Audio
CB-USB02-RS Dual USB cable
HDTVCABLESET-01 HDTV cable set with S-Video, composite and component Interfaces
32100-192900-RS One 4-pin (2×2) to one 4-pin(1×4) DC power cable with terminal block
32200-015100-RS LPT cable
63000-FSP0601AD101C746-RS 60W/12V Power Adaptor 90VAC~260VA, DIN 4 PIN
Packing List
1 * KINO-945GSE2 single board computer 2 * SATA 5V power output Cable Kit (P/N:32000-106100-RS)
1 * I/O shielding (P/N:45014-0031C0-00-RS) 1 * KB/MS Y cable (P/N:32000-023800-RS)
1 * Audio cable (P/N:32000-072100-RS) 1 * Dual RS-232 cable (P/N:19800-000112-RS)
1 * Mini Jumper Pack 1 * Utility CD
1 * QIG
Para descargar la noticia original, pulse aquí.
Para descargarse el datasheet del producto, pulse aquí.
Para más información de los productos de IEI, pulse aquí.